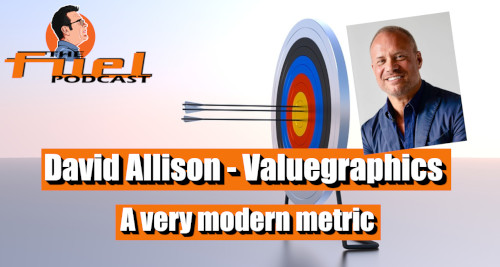 Agency leader, author and magician of metrics, David Allison in a can't miss episode on The Fuel Podcast.

You've heard of Demographics and Psychographics, now meet Valuegraphics, a way of classifying market segments based on shared values. Not age, not earnings but what drives our own operating system.

Throughout the world we have 56 shared values and using this process you'll guarantee that you have all the right trigger words in your messaging.
In this show, we discuss:
How the UK's values differ from Europe
The difference between values and beliefs
How brands can avoid purpose washing
What drove David to invent a new system for agencies
How Valuegraphics could create the perfect politician
How to get an entire hotel staff to wish you goodbye
Plus our very own Jeremy Davies loses his vowels over ABRDN, Consignia and lazy journalism.
All of us at The Advertist invite you to check out The Fuel Podcast, where we pull on the experience of leaders of companies in a variety of sectors with loads of fantastic interviews, tips and tales.
To check out this episode of the podcast click here.
https://www.theadvertist.com/new-business-development-tools/wp-content/uploads/2021/05/Ep60TitleImageSM_done-002.jpg
267
500
theAdvertist
https://www.theadvertist.com/new-business-development-tools/wp-content/uploads/2019/07/TheAdvertisttheHublogoWordpress_done-300x113.jpg
theAdvertist
2021-05-22 12:01:12
2021-05-24 12:15:31
THE FUEL PODCAST - DAVID ALLISON – VALUEGRAPHICS: A VERY MODERN METRIC