Business Development. It's a job description that appears to have multiple definitions.
Back in the 70s and 80s even into the 90s, a sales job title conjured up images of smooth-talking jack-the-lads who could charm people into buying things they didn't want; those who "had the gift of the gab".
In the last decade, UK sales positions have been rebranded to make them more palatable to the more sensitive souls in the business world. A quick peruse of LinkedIn's job board will reveal some interesting non-sales-sounding sales positions.
The Business Development job title is often used as a synonym for sales but the role of business development can sometimes have a perplexing number of applications.
Business development is a skill that blends creativity, new business sales, client development, brand marketing and account management. The weighting of each discipline can vary, depending on a number of factors, an obvious one being whether it is a board level or middle management-level responsibility (see diagram).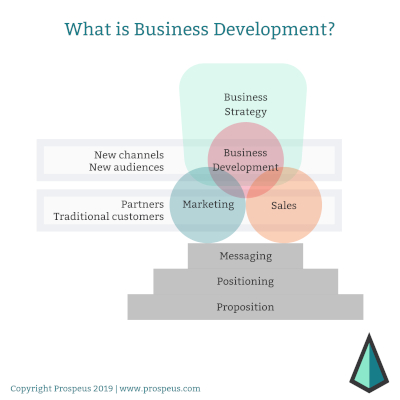 The responsibilities of the role encompass new and existing business. In general, business development executives have the ability to create new outreach strategies and ideas, and execute on them. At the same time they can work with a company's existing client base's marketing team to recommend and implement successful new strategies and plans to help develop brands and increase the individual worth of each client to the agency.
A business development director will tend to have a lot more responsibility for the direction of a new business campaign and plans for client strategies, while business development managers tend to look after the implementation and execution of them. Referring to the diagram, the 'Business Development' circle can move vertically and horizontally within an organization, depending on the strategy.
This is why many companies prefer to outsource the role to business development agencies and consultants. Finding people with the right mix of talents can be time-consuming, costly and – let's be honest here – there isn't always a permanent need for it; like accountants or managing directors because it's not always a fixed, definitive job description. So the role is often an interim or semi-permanent position. Business development agencies have the ability to work at the board strategic level or at the coal-face, implementing and executing strategies that have already been agreed upon.
Where many companies fall short in the outsourcing route is by not taking the counsel of these seasoned business developers. Bringing them in at the very start of the process allows them to guide the plan, make recommendations and suggest ideas that they believe are achievable.
A good business development agency or consultant will insist upon a consultation and 'warming up' process before the strategy launches. This time is best used laying out plans, agreeing milestones and making sure that all the required resources are ready. Therefore, the marketing and brand teams need sufficient heads up, as well as the sales and leadership teams. If client development is included in the brief, then introductions will need to be made, to avoid confusion.
Once the blueprint is agreed, it is simply a case of letting the business developer loose and carefully managing the roll-out of the plan.
From this, we can see that the role of business development can encompass many different skills and influence multiple departments of a company. It is a highly creative role (from a business knowledge perspective) and it can also require fundamental sales techniques. Above all, whether it is an in-house role or outsourced, a good business developer can become an integral synapse between important nerves of your organization, allowing insight and intelligence to feed and help grow your company.
Article co-authored by Keith Smith, MD of The Advertist and Jon Cunningham, CEO of Prospeus. Prospeus provides advice, consultancy, coaching and training to help agencies develop effective business development, lead generation + cold calling strategies.
https://www.theadvertist.com/new-business-development-tools/wp-content/uploads/2019/07/TheAdvertistWhatisBizDevGrowth_done.jpg
332
900
theAdvertist
https://www.theadvertist.com/new-business-development-tools/wp-content/uploads/2019/07/TheAdvertisttheHublogoWordpress_done-300x113.jpg
theAdvertist
2019-07-10 11:09:41
2019-08-12 15:10:49
Business Development: sales or cultivation or both?