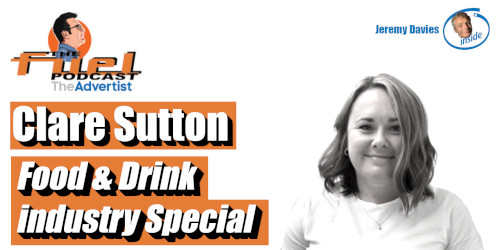 Clare Sutton is a food, drink and hospitality expert. Deputy Managing Partner at WPP-owned Clarion Communications, Claire and her team work tirelessly on behalf of some of the world's leading food and drink brands, spanning food-to-go, restaurants, FMCG, alcohol, soft drinks and everything in between.
Clarion also publishes a well-respected industry report every quarter that highlights trends, innovations and intelligence across this wide and varied sector, so instead of our usual new business briefing, we thought it would be good to take a more in-depth look at all things hospitality and avail ourselves of the knowledge of an expert to provide some background and context for new business prospecting.
In this show, we discuss:
The amazing cultural variety of "British Food"
How current affairs drives food creativity
The relationship between food and culture
How the Queen boosted sales of pork pies
The art of creating content for social media
The rise of the food truck industry
Plant-based food trends driven by Millennials and GenZ
Chicken Kiev or Keev?
Premiumisation of drinks
How an inept Government is inspiring responsible food brands
Predictions for the snack market
New business tips for approaching brands and companies
Plus our very own Jeremy Davies is back with his commentary on food for meetings
Show notes
Here it is! The Clarion Food and Drink report:
Clare Sutton LinkedIn profile here: https://www.linkedin.com/in/claresutton/
Clare's Twitter profile: https://twitter.com/clareysutton
Paddington and Her Majesty the Queen of England video: https://www.youtube.com/watch?v=7UfiCa244XE
All of us at The Advertist invite you to check out The Fuel Podcast, where we pull on the experience of leaders of companies in a variety of sectors with loads of fantastic interviews, tips and tales.
To check out this episode of the podcast click here.
https://www.theadvertist.com/new-business-development-tools/wp-content/uploads/2022/07/TheFuelEP97MainImage_BLOG-002.jpg
250
500
theAdvertist
https://www.theadvertist.com/new-business-development-tools/wp-content/uploads/2019/07/TheAdvertisttheHublogoWordpress_done-300x113.jpg
theAdvertist
2022-07-04 15:40:55
2022-07-19 15:57:24
THE FUEL PODCAST - CLARE SUTTON – CLARION COMMS: FOOD & DRINK INDUSTRY SPECIAL