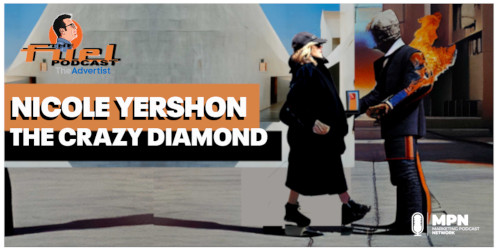 Do you want to unlock your creativity and bring your most imaginative ideas to life? This episode of the podcast features one of the advertising industry's most imaginative creatives, Nicole Yershon.
In this episode, Nicole shares her "never say never" approach to business, which has pushed boundaries, broken taboos, shifted needles, and toppled monopolies. She also talks about her book, Rough Diamond, which is dedicated to all those people who think differently, courageously, and divergently to make the creative industry the envy of the world.
But Nicole isn't just here to promote her book. She also shares her insights on a wide range of topics, including how to develop empathy, where creativity comes from, mathematics for business, new business advice, achieving work-life balance, the importance of trust, flooding Second Life, innovative thinking and survival, and the difference between intrepreneurship and entrepreneurship.
Nicole also champions the good work of the creative education system, including Communications Arts, and explains her proven theory of learning that helps us all to understand biohacking, cyborgism, and humans as technology. Overall, this episode is a must-listen for anyone looking to unlock their creativity and bring their most imaginative ideas to life. Tune in to hear Nicole's insights, stories, and advice – and be inspired to think differently and push boundaries in your own work.
All of us at The Advertist invite you to check out The Fuel Podcast, where we pull on the experience of leaders of companies in a variety of sectors with loads of fantastic interviews, tips and tales.
To check out this episode of the podcast click here.
https://www.theadvertist.com/new-business-development-tools/wp-content/uploads/2023/05/EP120MainImageFINAL_BLOG-002.jpg
250
500
theAdvertist
https://www.theadvertist.com/new-business-development-tools/wp-content/uploads/2019/07/TheAdvertisttheHublogoWordpress_done-300x113.jpg
theAdvertist
2023-04-17 13:58:31
2023-05-16 14:01:23
NICOLE YERSHON: THE CRAZY DIAMOND