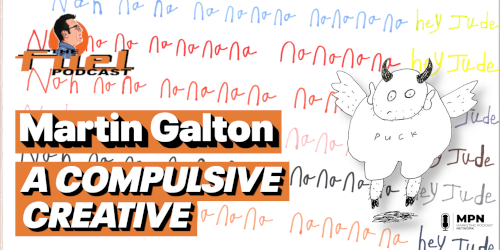 Get inside the brain of a creative director! Martin Galton is one of the UK's most renowned creative geniuses, with a wealth of experience in the advertising industry.
In this episode, Martin shares his secrets for unleashing your inner creative, using simple techniques to tap into your creative potential. He also discusses his own journey in the industry, from copying Jesus to creating a 100-movie franchise through the power of juxtaposition.
But it's not all about the past – Martin also discusses the latest trends and issues in the industry, including flexible working, winning business, and the power of saying yes. He even has an amazing idea for one lucky outdoor media company.
And of course, no discussion about creativity would be complete without an exploration of artificial intelligence. Martin shares some surprising insights that are sure to challenge your assumptions about AI. So tune in to this episode for an entertaining and insightful discussion about the world of creativity, featuring stories, advice, and plenty of laughs along the way. And don't miss Martin's unbeatable story about Muhammad Ali – it's the perfect ending to this creative masterpiece.
All of us at The Advertist invite you to check out The Fuel Podcast, where we pull on the experience of leaders of companies in a variety of sectors with loads of fantastic interviews, tips and tales.
To check out this episode of the podcast click here.
https://www.theadvertist.com/new-business-development-tools/wp-content/uploads/2023/05/EP121MainImage_blog_done-002.png
250
500
theAdvertist
https://www.theadvertist.com/new-business-development-tools/wp-content/uploads/2019/07/TheAdvertisttheHublogoWordpress_done-300x113.jpg
theAdvertist
2023-05-02 13:53:10
2023-05-16 13:56:55
MARTIN GALTON: A COMPULSIVE CREATIVE