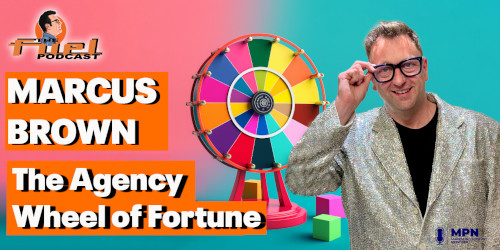 Looking for insights into the art of the big agency pitch? Look no further than this week's guest, Marcus Brown. With years of experience at top agencies like Rainey Kelly Campbell Rolfe Y&R and Publicis Media, Marcus is a master of the pitch process. He's now running The Great Pitch Company, where he shares his showmanship and pitch knowledge to help agencies win new business.
In this episode, Marcus shares his top tips for winning meetings, identifies the key growth tactics for big agencies, and explains how to identify great clients. He also discusses the importance of being prepared, the art of saying no, and the three essential ingredients every agency needs to know before they go for growth.
But Marcus isn't just an expert on the pitch process. He's also the driving force behind the Great Pitch Poll, which tracks the pressures that agencies feel over the new business process, giving him unique insights into the industry's mental health.
So, whether you're a seasoned agency pro or just starting out, you won't want to miss this episode. Tune in to hear Marcus's insights on the pitch process, agency growth, and more.
All of us at The Advertist invite you to check out The Fuel Podcast, where we pull on the experience of leaders of companies in a variety of sectors with loads of fantastic interviews, tips and tales.
To check out this episode of the podcast click here.
https://www.theadvertist.com/new-business-development-tools/wp-content/uploads/2023/05/WheelFortuneFINAL2_BLOG-002.jpg
250
500
theAdvertist
https://www.theadvertist.com/new-business-development-tools/wp-content/uploads/2019/07/TheAdvertisttheHublogoWordpress_done-300x113.jpg
theAdvertist
2023-05-16 13:50:11
2023-05-16 13:50:15
MARCUS BROWN: THE AGENCY WHEEL OF FORTUNE