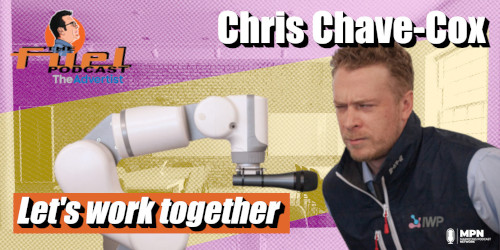 Forward-thinking agencies are creating dynamic workplaces for their teams that help them seamlessly transition between the work office and the home office.
And it's a lot more complex than just setting up a Zoom account on a laptop. How do you deal with security? confidentiality? flexibility, mental wellness and oversight?
Christopher Chave-Cox (CCC) runs The Intelligent Workspaces Partnership – a tech company dedicated to helping companies adapt to the new paradigm.
From building specs to installation and deployment, IWP is at the vanguard of the modern workplace. In this show, CCC shares some insights into what's needed to create a workplace that people want to call their second home – spoiler alert – you're going to need more than an Air Hockey table.
What tech do you need at home? What tech does the company need? Who pays for what? What buildings will function as an approved workspace by 2025? How are other countries are preparing to meet the need of the modern worker?
And most of all – how can creative agencies manage this when so much of their work demands collaboration? There's also some great new business insight into the property market.!
It's all here in a fantastic hour of literal office banter!
Show notes
Chris Chave-Cox on LinkedIn: https://www.linkedin.com/in/christopher-chave-cox-54712929/
Cyber Essentials:https://www.ncsc.gov.uk/cyberessentials
GCHQ Cybersecurity: https://www.gchq.gov.uk/section/mission/cyber-security
All of us at The Advertist invite you to check out The Fuel Podcast, where we pull on the experience of leaders of companies in a variety of sectors with loads of fantastic interviews, tips and tales.
To check out this episode of the podcast click here.
https://www.theadvertist.com/new-business-development-tools/wp-content/uploads/2023/04/EP117MainImage_BLOG-002.jpg
250
500
theAdvertist
https://www.theadvertist.com/new-business-development-tools/wp-content/uploads/2019/07/TheAdvertisttheHublogoWordpress_done-300x113.jpg
theAdvertist
2023-03-10 13:19:30
2023-04-19 13:21:50
CHRISTOPHER CHAVE-COX: LET'S WORK TOGETHER