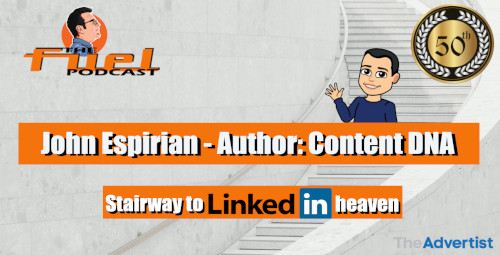 Our 50th episode stars John Espirian – a Black Belt 10th Dan of LinkedIn.
90 minutes of tips and tricks to get your LinkedIn performance in the premier league. John dropped into the Fuel podcast to unleash his substantial knowledge of the business community's leading social media platform – LinkedIn, to help all of us in the new business world, up our game.
Included:
The benefits of using video
Stop liking and start commenting
Why view counts are misleading
Optimising your profile
How to sign up for John's LinkedIn leaders course
How to prune your network
The five best content types
Why you should treat posts like mini blogs.
All of us at The Advertist invite you to check out The Fuel Podcast, where we pull on the experience of leaders of companies in a variety of sectors with loads of fantastic interviews, tips and tales.
To check out this episode of the podcast click here.
https://www.theadvertist.com/new-business-development-tools/wp-content/uploads/2021/02/Ep50Image3_done-002.jpg
255
500
theAdvertist
https://www.theadvertist.com/new-business-development-tools/wp-content/uploads/2019/07/TheAdvertisttheHublogoWordpress_done-300x113.jpg
theAdvertist
2021-02-25 14:42:02
2021-03-03 14:37:47
THE FUEL PODCAST - JOHN ESPIRIAN: AUTHOR, CONTENT DNA – THE STAIRWAY TO LINKEDIN HEAVEN