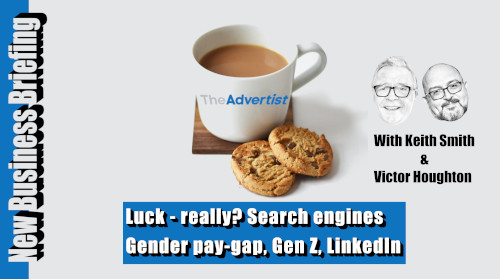 Victor Houghton is back! In Episode 9 of the New Business Briefing, we discuss all the latest research that Victor has uncovered and we dive a bit deeper into the ones that meant the most to him.
There's some great talking points for you to cover with your new business prospects, including:
Luck, serendipity, fate, kismet and chance. Is it really just happenstance or is it because your subconscious is picking up on clues?
Why Reddit is becoming more popular than Google for fact-finders.
The Gender Pay Gap Bot
What Gen Zs realy think and why we should care
LinkedIn's Career Breaks product Profiled
Show notes:
Wolff Olins strategist lauds serendipity – Creative Brief
Early adopters are shunning Google's search results in favour of Reddit
What Gen Z really think and why you should care. GWI
The Gender Pay Gap Bot Vice
LinkedIn is introducing Career Breaks
All of us at The Advertist invite you to check out The Fuel Podcast, where we pull on the experience of leaders of companies in a variety of sectors with loads of fantastic interviews, tips and tales.
To check out this episode of the podcast click here.
The Advertist helps new business, advertising, marketing, digital and PR agencies find their sales mojo through our intuitive news, insight, contact data and market intelligence services.
If you'd like a free trial please contact us at hello@theadvertist.com.
https://www.theadvertist.com/new-business-development-tools/wp-content/uploads/2022/04/NBB09titleartBLOG_done-002.jpg
279
500
theAdvertist
https://www.theadvertist.com/new-business-development-tools/wp-content/uploads/2019/07/TheAdvertisttheHublogoWordpress_done-300x113.jpg
theAdvertist
2022-04-05 11:30:47
2022-04-08 12:03:36
NEW BUSINESS BRIEFING: WITH VICTOR HOUGHTON – EP9